Janesville's Monterey Hotel could be slated for demolition based on a raze-or-repair order the city issued for the iconic building last week.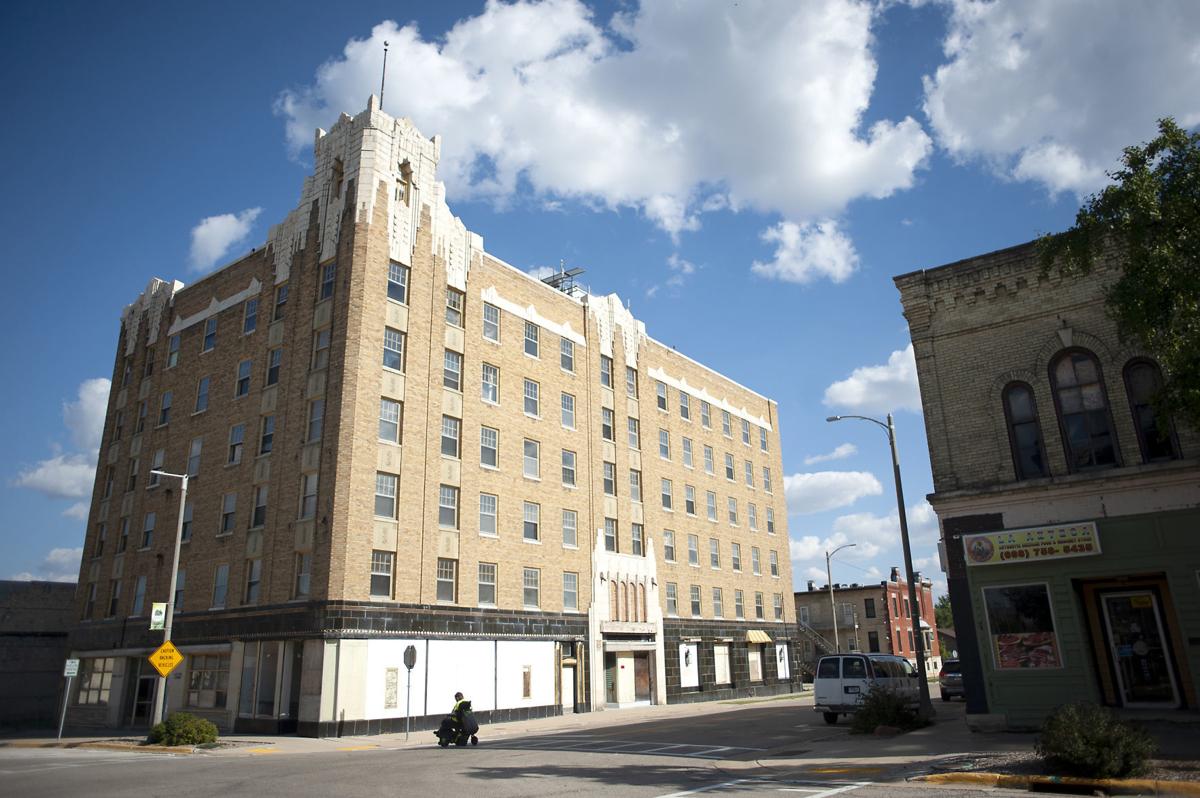 A raze-or-repair order gives a building owner 30 days to develop a plan that would bring the property up to code. Once a plan is in place, the city sets another deadline for the repairs or demolition to be finalized, Building Director Tom Clippert said Monday.
City officials issued the order for the hotel Sept. 10. The city issued the same order Aug. 15 for a building at 13 N. Main St.
Officials have not heard from Bruce Monson, who owns the property on Main Street. He will be notified that the city will begin a bidding process for a contractor to raze that building, although the timeline for its demolition is uncertain, Clippert said.
Monson would be responsible for that cost. He declined to comment when reached by The Gazette.
"13 North Main is basically a shell of a building that is unsafe and in a condition that is a life safety issue. If there were ever an incident and the fire department had to go in, it would be a safety issue," Clippert said. "With Monterey, it's similar. That property has deteriorated to the point we consider it a nuisance property and a safety issue."
The hotel has sat empty for more than 25 years. Clippert wasn't sure how long the other building has been vacant, but it was unoccupied when he started in his current job more than three years ago, he said.
Jim Grafft, the owner of the Monterey Hotel, does not have to develop a plan to find a tenant. But he needs to have plans to fix the building before his 30-day compliance window ends Oct. 10.
Grafft has owned the hotel on the corner of West Milwaukee and South High streets for about two decades. He has long said he wants to redevelop the building into apartments.
But he has clashed with the city over on-site parking and has said he needs city incentives to build a parking deck, as previously reported by The Gazette.
Multiple attempts to reach Grafft on Monday were unsuccessful.
Clippert said it's frustrating to see no progress on the hotel. Janesville has worked with the owners of both buildings for years to get them up to code, but that hasn't happened.
The buildings have fallen into such disrepair that the only remaining option is to issue raze-or-repair orders. The problems have gone beyond cosmetic and are now structural, he said.
Janesville has not previously issued raze-or-repair orders for either of the buildings, but it has issued letters to both property owners asking them to make smaller repairs. Failing to act on those can lead to a raze-or-repair order, Clippert said.
Copies of both buildings' raze-or-repair orders provided by the city include a list of ordinance and building code violations. The orders are mostly general and include directives for structural and cosmetic improvements inside and outside the buildings.
The orders do not estimate how much repairs or demolition could cost at either property.
The raze-or-repair order for 13 N. Main St. came not from an inspection but after observations over the past three years.
At the hotel, city officials are requiring Grafft to remove debris from stairways and hallways on all floors. The raze-or-repair order also mentions bricks falling off some areas of the building.
Clippert shared a code violation letter sent to the hotel in January that said the building was "likely to partially or completely collapse" because of dilapidation. Grafft had until June 30 to submit a report stating the building was structurally sound.
That didn't happen, and city officials had many internal discussions before they opted to issue the raze-or-repair order, he said.
Clippert also shared a 2015 violation letter citing problems he said still remain.
The 2015 letter asked Grafft to remove trash and debris from stairways so cellphone technicians could safely access an antenna on top of the building. It also mentions a leaky roof and broken or open windows that prevent the structure from being weather-tight.
It hasn't been difficult for vandals to get inside the old hotel.
A cellphone technician there last week for tower maintenance reported graffiti that included a threat to bomb the Rock County Courthouse on Aug. 10. It was likely written sometime after June 21 and was not found until more than a month after the bomb threat date, according to a Janesville police report.
Nobody bombed the courthouse last month.
Despite the hotel's problems, Clippert believes there's a chance it can be preserved.